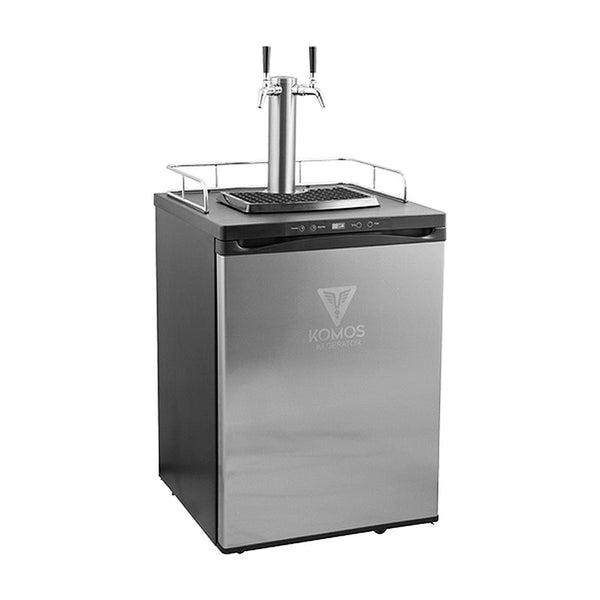 KOMOS V2 Kegerator with Stainless Steel Faucets
The KOMOS Kegerator offers a stunning set of features that clearly separate this unit as the most modern kegerator on the market. With more interior space than other models, the KOMOS Kegerator is designed to fit up to four 5-gallon Slimline Torpedo kegs or Pepsi-style Ball Lock Corny kegs.
Whether you choose the single, double, triple, or quad tap configuration, you'll receive NukaTap stainless steel faucets, the newest forward-sealing faucet design. Stainless faucets are a huge upgrade over the chrome-plated brass faucets commonly included with other kegerators, and you'll quickly recognize the quality of a forward-sealing beer faucet compared to the standard taps seen at your local tavern or in-law's mancave. Rather than a chrome-plated tower, the NukaTap faucets are mounted to a stainless steel tower that remains cool before, during, and after each pour thanks to a tower fan diverter that recirculates cold air within the kegerator and blows it up into the tower to keep your beer lines cold and reduce foaming.
From keg to faucet, your beer will pass through EVABarrier draft lines, a premium double-walled tubing designed to protect against beer oxidation. And with Duotight push-to-connect fittings, you'll have your lines connected in a snap with no need to force the tubing over barb fittings or fiddle with hose clamps.
Other features you'll love about the KOMOS Kegerator include its highly-efficient cooling capacity so you'll be serving ice cold beer even in the warmest temperatures, extra-wide temperature range from 26–82°F, dual gas inlets at the back, stainless steel internal floor, rolling casters, and the included KOMOS Dual Gauge CO2 regulator.

Product Details
Stainless Steel Air Cooled Tower
NukaTap Stainless Steel Forward-Sealing Faucets (choose number of taps above)
Duotight Fittings make connecting draft lines a breeze
Digital Thermostat with wide 26 - 82° F temp range.
Robust KOMOS Dual Gauge Regulator included
CO2 Tank holder mounts on back of kegerator (tank not included)
Efficient and powerful compressor
Stainless Steel Door
Countertop Style Drip Tray
Stainless Steel Floor for additional keg support

Includes EVABarrier beer and gas tubing

Beverage line measures 4mm ID x 8mm OD
1 x 1.7m length of line per tap
Gas line measures 5mm ID x 8mm OD
1 x line of varying length depending on number of taps (2, 2.5, or 3m)
4 Tap model includes uncut rolls of bev & gas line

We recommend cutting bev lines to 1.7-2m lengths (5.5-6.5 ft.)
Gas lines can be cut to whatever length best suits your needs

Duotight adapters for draft shank and regulator connections
Duotight tee fittings for splitting gas lines (2, 3, 4 tap only)
You will need to purchase keg connections depending on whether you are serving commercial sanke, ball lock corny, or pin lock corny
Available Kegerator covers and "off road" casters for moving over uneven terrain
Detailed instructions on assembly and use

Specifications:

23.75" wide
25" deep
32.5" Tall (fridge only)

35" with Caster wheels
48.75" with tower
51" with Casters and Tower

110 v - 60 hz
0.8 Amp draw
Optimal ambient temperature is  65°F – 80°F
CSA Certified

Internal Dimensions:

19.5" wide
17" deep

16" down the center where compressor sits

28.5" tall 

What Fits:

5 Gal. Torpedo Keg - 3
5 Gal. Slimline Torpedo Keg - 4
5 Gal. Pin Lock Cornelius Keg (Corny Keg) - 3
5 Gal. Ball Lock Cornelius Keg (Corny Keg) - 4
5.16 Gal. Sixth Barrel Keg (Sixtel, Log) - 3
7.75 Gal. Quarter Barrel Keg (Pony Keg, Stubby Quarter) - 1
7.75 Gal. Slim Quarter Keg (Tall Quarter, The Slim) - 1
15.5 Gal. Half Barrel Keg (Full Size Keg) - 1
Downloads