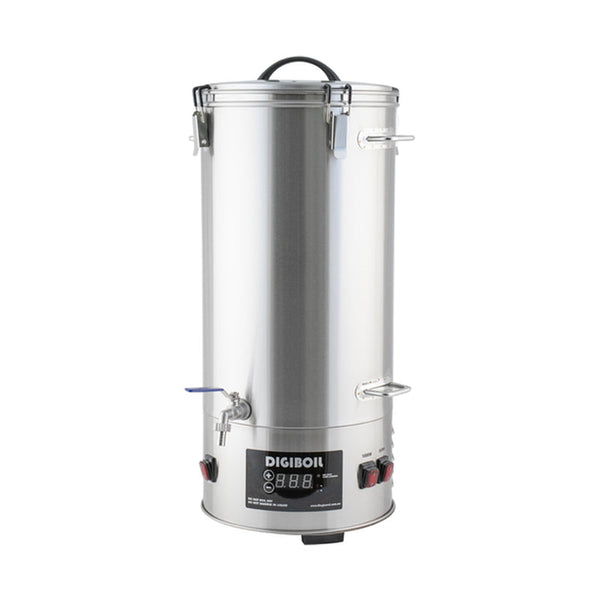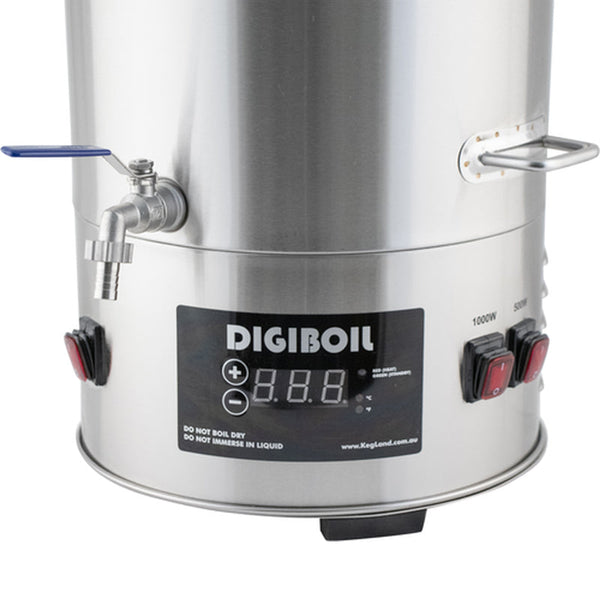 DigiBoil Electric Kettle 35L/9.25G (110V)
The DigiBoil is a versatile electric kettle that can be used as a standalone unit or integrated into your current brew system to serve a variety of functions. Easily brew 5-gallon extract batches. Use it to preheat your strike water or sparge water to a precise temperature. Pair it with a pump and heat exchanger to use it for HERMS brewing. Or slap on a still top lid and condenser for distilling! With so many ways to use the DigiBoil, and an affordable price tag to boot, it's hard not to get excited about this electric kettle! This DigiBoil model has two built-in heating elements that run off a 110V plug. One element is 1000w and the other is 500w for a combined 1500 watts! The elements can be individually controlled, allowing you to use a single element to gently hold temperatures, or engage both elements to quickly go from steeping temp to boiling. Temperatures are set and automatically maintained through the digital control panel. Simply set your desired temperature and flip on the heating element(s). Integrated stainless ball valve comes with a 13mm barb (approx. 1/2"). The barb can be removed to attach 1/2" FPT fittings if desired.
Product Details
304 stainless steel construction
9 gallon total capacity
Digital temperature control
110V / 15A power and plug (5 ft. cord)
Dual heating element control (1000w and 500w)
Heating elements are concealed for easy cleaning
304 stainless steel 1/2″ ball valve with 13mm barb (approx. 1/2″)
Stamped-in volume markers (gallons & liters)
Stainless lid
Temperature reads in °F or °C

With elements turned off, hold both +/- buttons to switch between °F or °C

Compatible with reflux and pot still
External Dimensions: 29″ H x 15″ W (including handles)
Internal Dimensions: 19.5″ H x 11.75″ W
Distilling: to use the DigiBoil with a distilling condenser, you will need to purchase the still top lid and gasket.
Warning: Distilling alcohol without permits or licensing is illegal in many countries, including the United States. It is the customer's responsibility to research their local, state, and federal laws and abide by those laws. Brewmaster is not responsible for any damage or injury caused by either misuse or unlawful use. Stills can also be used to produce essential oils, vinegar, purified water, and engine fuel (requires permit in USA).